The Ghent azalea is undeniably tied to the city of Ghent, but why did the plant find its home in this city? How can you tell if what you're buying is a real Ghent azalea? And why is it an environmentally friendly plant? You'll find everything you want and need to know about the Ghent azalea on this page.
Why Ghent was just right for the azalea
The history of the Ghent azalea starts in the late 18th century when the azalea was first brought to our part of the world from China and Japan. At that time, floriculture was booming in the Ghent area. Thanks to the proximity of the city with its excellent infrastructure, this area seemed just right for the azalea to flourish. Add a favourable climate and soil type and there you have it, the Ghent azalea!
Abundant research lead to improvement and a wide range of azalea cultivars to choose from. Flemish nurserymen played an extremely important part in this research. As a result, the Ghent azalea is a beautiful plant with flowers that bloom up to six weeks and are available in some 150 varieties.
Guaranteed high quality
Only azaleas that are cultivated in East Flanders and comply with strict quality standards can be sold as 'Ghent azaleas'. The nurseries know these standards as the 'PAK conditions'. PAK stands for 'Project Azalea Kwaliteit', for which objective quality criteria were drawn up.
The nurserymen are subject to independent monitoring and must take part in flower tests. Their products must also meet strict quality requirements. For instance, 80% of the buds must already display the colour of the blossoms. There are also strict rules about leaf quality. The potted plants must be free of weeds and a clean and well cared-for flower pot must be guaranteed.
Licensed growers
You'll recognise a real Ghent azalea by its 'Ghent azalea' label or the PGI stamp on the back of the recognised nursery's plant label. These nurseries are all members of the PAK and guarantee a Ghent azalea of the highest quality.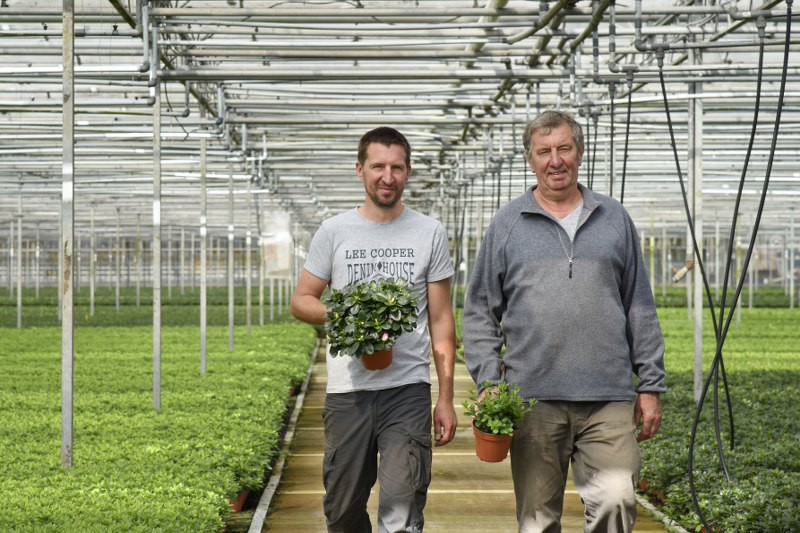 Regional product
Almost 85% of today's European azaleas originate from East Flanders. In 2010 the Ghent azalea received a PGI (Protected Geographical Indication). The Ghent azalea thus became the first European ornamental plant product to be recognised in this way. To sell an azalea as a Ghent azalea, both the plant and the nursery must comply with strict quality requirements. In other words, when you buy a Ghent azalea, you're buying a local product of the highest quality!
An environmentally friendly plant
During cultivation, growers utilise energy sources and plant protection products sparingly. This is the reason for using a combination of organic and chemical pesticides. In addition, azaleas are grown in outdoor conditions for much of the year. The greenhouses are only heated in winter when there's a risk of temperatures dropping below 0°C.
It is only at the end of the process, when the azaleas are brought to flower, that greenhouses are heated to 18 or 20°C and extra lighting is brought in. But this period only lasts about 2 to 3 weeks out of a total cultivation process of 12 to 18 months. In addition, the Ghent azalea is a local product so minimal transport is needed. All in all, the Ghent azalea is quite a low-energy plant with a small ecological footprint!